By karlw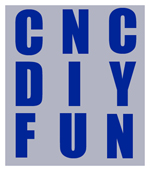 Part 1
The CNC machine is considered by many to be the Holy Grail of the maker. This sacred object figures into the literature of maker technology, most often identified with the guru and said to possess miraculous powers. There comes a time in every makers life when he quests for such a thing. But if he is to prove himself worthy he must build it himself. Building such a device will challenge the builder to call upon all of his previous experience culled from the toil of midnight engineering and creative problem solving.
Okay, maybe that's a little dramatic but this project is exciting because it involves many of my main interests: automated control systems, electronics, mechanics, software, design and building. To paraphrase our friend Darin White and fellow maker commenting on his own cnc machine, "When you see it running for the first time it's like magic!"
A couple of months ago I decided that it was time to build a CNC router to cut light aluminum, acrylic, and wood. I was designing a new robot that will include some more intricate parts than usual. The thought of using a CNC router in place of the band saw and drill press crossed my mind and a new project was begun.
Now it's time to create some magic. The following blog posts will update the progress in my search for the Holy Grail.
Karl Williams