By karlw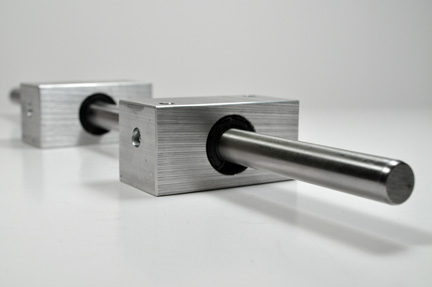 After doing some internet research on CNC router designs I decided to go with the 3 axis gantry style router. I considered the features I liked from all of the designs I'd seen and then sketched it up in my note book. I launched my CAD program, figured out the sizes and then designed the frame pieces for the x-axis.
One of my main requirements for this project was to build with components and parts that I already had or could be found locally. I had the L297 and L298 stepper driver chips in my parts box so I'd design my stepper motor driver electronics around that chip set. Living in an area central to The Home Depot, Canadian Tire, Home Hardware, Princess Auto, The Metal Supermarket, Sayal electronics, Orion electronics, Spaenaur and KW Surplus would make this requirement easy for me to accomplish. Another great resource for this project will be my maker friends who have already built CNC machines and have lots of great advice. My older brother, Geoff Williams, is the author of a book about building a CNC machine so I dropped by his place to discuss the project. After a dig through his junk box he presented me with 8 linear bearings that fit 1/2-inch shafts so I was off to a good start.

1/2-Inch linear bearing
Now that I had the linear bearings that I was going to use I set out to design a bearing mount. I used aluminum and after some cutting and drilling at kwartzlab I had a working mount. I went to the metal supermarket and got enough aluminum to make 10 mounts. I took the chunk of aluminum across the street to Paul Bauman Metal Fabricators and got him to cut the pieces and then drill the large 7/8-inch hole in each mount. This saved me a lot of time. I still had to drill, tap and counter sink the set screw holes to hold the bearings in place and the mounting holes on the top of each mount.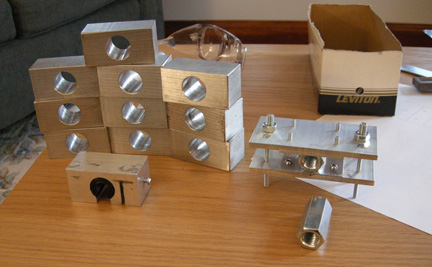 Prototype and 10 mounts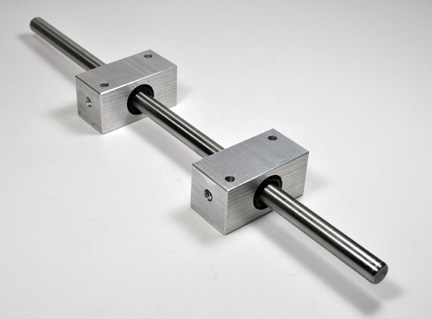 Mounts on a 1/2-inch shaft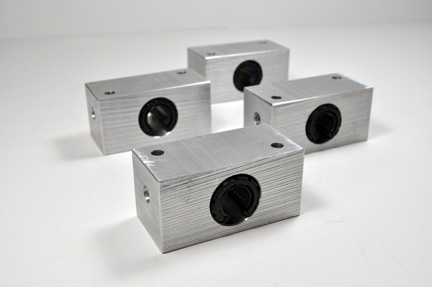 Four completed mounts
More to come…
Karl Williams